Sake Flavors & Pairings - Find your perfect sake match!
Sake can be a powerful tool for food pairings. The various aromas, textures and flavors of Vine Connections' sake pair perfectly with many dishes and are not solely limited to pairing with Asian-style cuisine. With a more adventurous spirit toward beverage pairings, you can have an experience that exceeds and transforms the norm. Allow your taste buds to lead you towards your perfect sake match and check out the pairing suggestions listed below. Kanpai!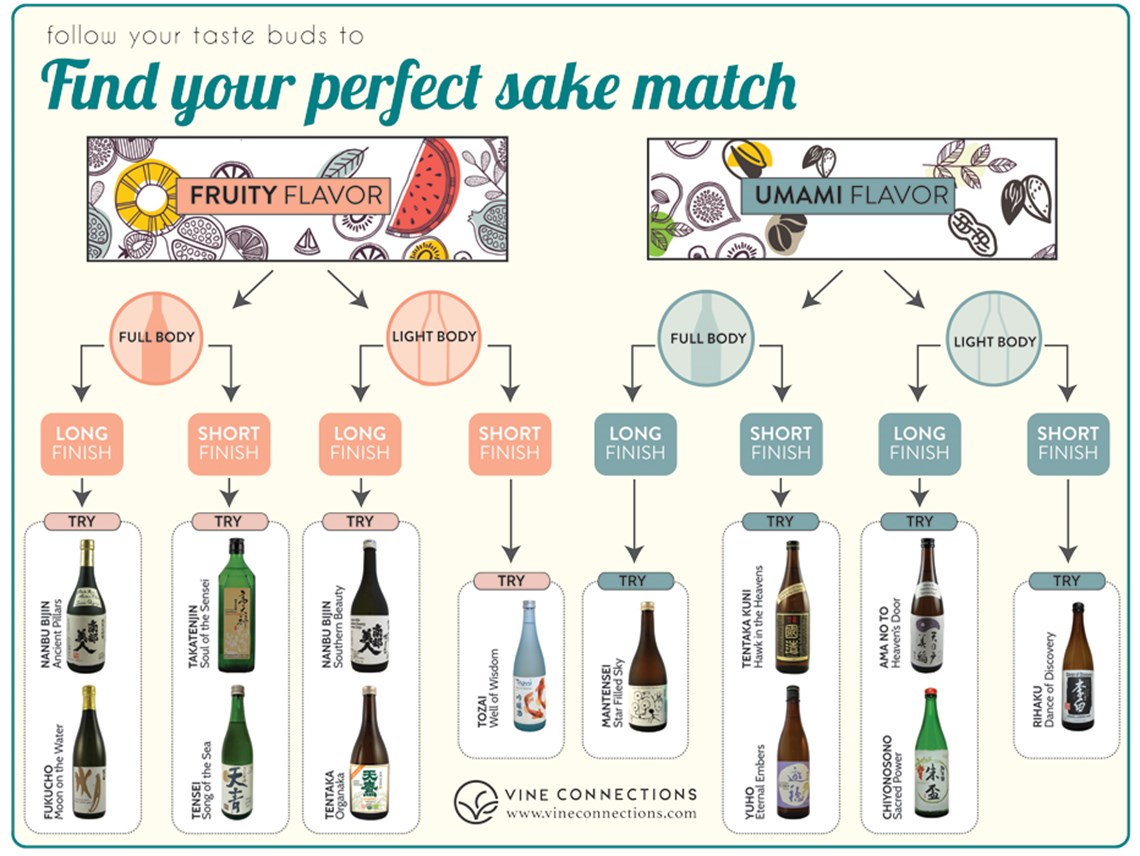 CLICK TO DOWNLOAD THE SAKE FLAVOR CHART
NANBU BIJIN | Ancient Pillars
Zesty, bold and versatile with concentrated floral and citrus notes.
Try paired with smoked fish or caviar.
FUKUCHO | Moon on the Water
This beautiful sake is soft & creamy with pineapple and fennel flavors.
It goes well with sweet, succulent shellfish with decadent preparations like butter-poached lobster or scallops in beurre blanc. 
TAKATENJIN | Soul of the Sensei
Soft and rich while maintaining tightness and structure. Aromas of clean honeydew rind, zesty cantaloupe and dry anise.
Try with tuna tartare, grilled prawns with lemongrass or goat cheese with lavender honey.
TENSEI | Song of the Sea
A medley of apple, banana, and melon lead the aromas and carry through on the palate.
Pair with grilled lamb chops, couscous or paprika chicken.
NANBU BIJIN | Southern Beauty
White wine aromatics of pear, grass, and muscat grape.
Pairs well with tempura vegetables, stuffed pork loin or raw oysters.
TENTAKA | Organaka
Clean, dry, and straightforward, with bright banana and mild melon aromas and soft, subdued rice flavors.
Try with brussels sprouts, butternut squash, shitake mushrooms, or pork loin.
TOZAI | Well of Wisdom
Crisp with juicy fruit notes that pair with bright, refreshing flavors that have a touch of sweetness.
Pair with seared fish with fruit salsa or avocado & corn salad. 
MANTENSEI | Star Filled Sky
Soft, honey-laced nose with a tad of fruitiness. Good richness and overall balance, finishing dry.
Try this sake with ginger pork stir fry, spinach salad, and goat cheese with a honey drizzle.
TAKATENJIN | Hawk in the Heavens
Earthy flavors and rich mouthfeel allow for unique pairing opportunities similar to sherry and darker beers.
It works well with salty foods and barbeque.
YUHO | Eternal Embers
Bread pudding aromatics of raisin, nut and fig. Packed with umami without being cloying.
Pairs well with a variety of dishes. Try with miso-glazed seafood, pesto pasta, or cilantro dishes.
AMA NO TO | Heaven's Door
Layers of dried flowers and baking spice give way to savory salinity.
Pairs perfectly with game birds, pork ribs or wild mushrooms. Also try paired with pickled or fermented foods.
CHIYONOSONO | Sacred Power
Rich, full flavored sake with aromas of fresh-cut green grass and hints of tropical fruits. The mouth feel is silky with suggestions of briny and umami flavors.
Pair with fresh oysters, calamari, mustard greens or bok choy.
 RIHAKU | Dance of Discovery
Textured and layered, smoky and sweet, with a cleansing acidity at the end.
Great to pair with grilled chicken, sweet potato gnocchi, or pork loin with apricot.