SAKE OVERVIEW
Brewed in the same way with the same ingredients as Pearls of Simplicity but with a touch of distilled alcohol to open up aromatics and lighten the overall impact. Konteki means "dew drops of the earth" while Higashiyama (the brewery name) translates to "eastern hill." Brewery workers have been known to start their days watching the sun rise over the mountains until the dew drops glisten as if they were the Tears of Dawn.
Tasting Notes
Lush notes of tropical banana, anise seed, and truffle. These same flavors come rushing through the full-bodied palate followed by a velvety and dangerously smooth finish.
Food Pairing
Try with braised pork ribs, fresh oysters or smoked gouda cheese.
Tech Details
Grade:

Daiginjo

Seimaibuai:

50%

Rice:

Yamada Nishiki

Nihonshu-Do:

+3

Acidity:

1.4
Alcohol:

15.5%

Sizes:

12/300ml
6/720ml
6/1.8L


Suggested Retail Prices:

$20
$39
$76


UPC Codes:

835603005530
835603005523
835603005837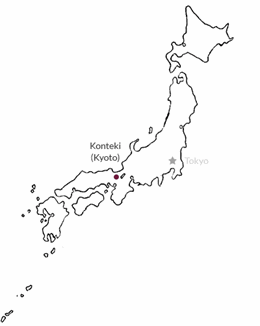 Higashiyama Brewery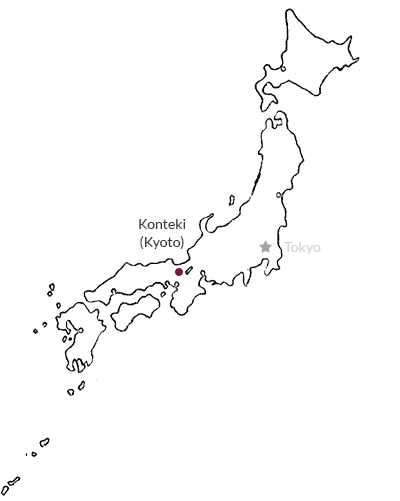 Konteki's culture centers around 15th century ideals of Zen Buddhism and purity in beauty.
• Kyoto is the birthplace of sake and is home to the local Fushimi Mizu, one of Japan's most prized water sources of soft, pure water.
• Well-respected rice farmer Masayasu Tanaka grows rice for the brewery. He is famous for growing some of Japan's best quality Yamada Nishiki rice, considered the pinnacle of premium sake rice.
Brewery Name:

Higashiyama Brewery

Toji (master brewer):

Seiji Yaoi
Brewery Location:

Kyoto

Brewery President:

Shinji Matsumoto