Wine Pairings For Your Favorite Girl Scout Cookies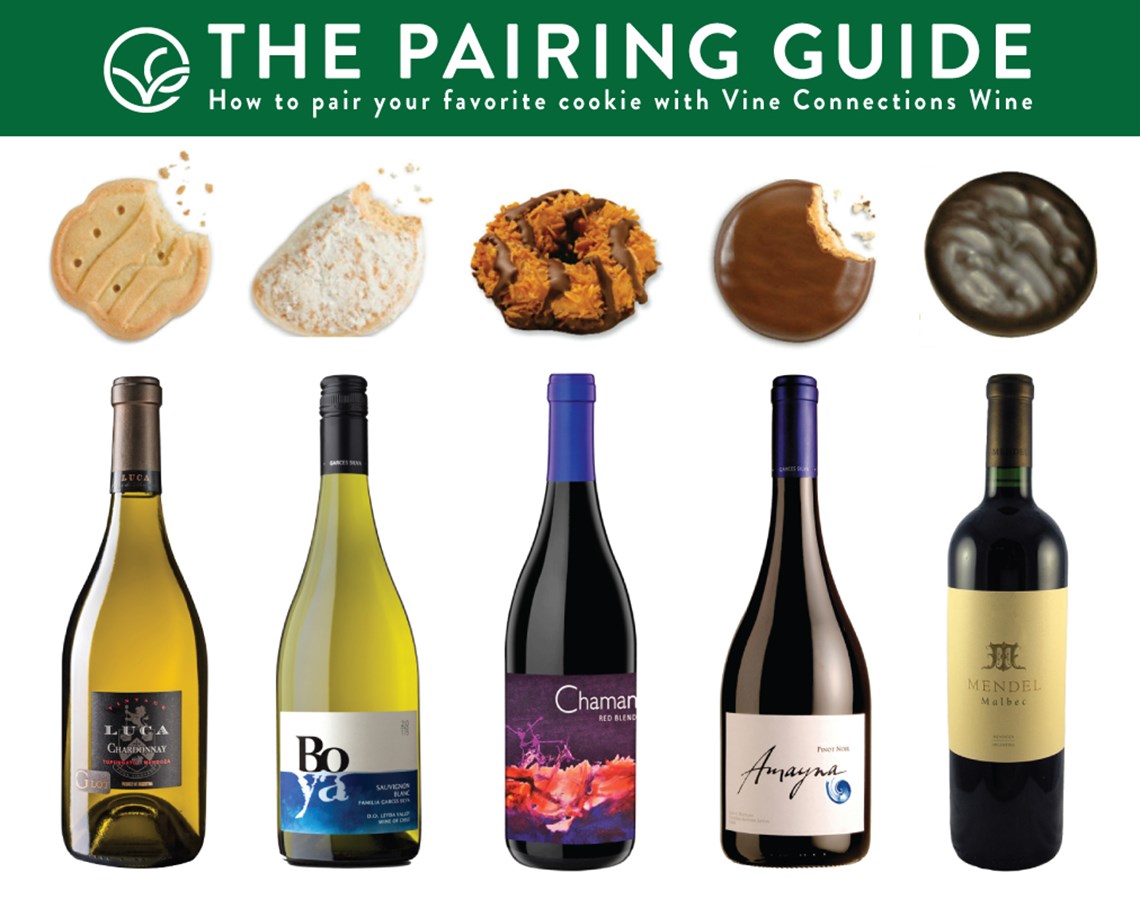 It's that time of year, Girl Scout cookie season is back! These popular sweet treats are tough to resist, yet even better when paired with your favorite wine. We've chosen a few of our favorite cookies and paired them with wines from our Chilean & Argentine Portfolio. Salud & Enjoy!
Trefoils with Luca Chardonnay
Also known as the shortbread cookie, this simple, buttery treat comes to life with the round richness of a Chardonnay. Try paired with Luca Chardonnay, the enticing aromas of lemon crème and notes of dulce de leche enhance this simplistic favorite.
Savannah Smiles with Boya Sauvignon Blanc
Zesty lemon dusted in powdered sugar makes Savannah Smiles cookies the perfect pair with Boya Sauvignon Blanc. The gentle fruity notes of mango, pineapple and passion fruit pair perfectly with the sweet and tangy cookie.
Samoas with Chaman Red Blend
The harmony of coconut, caramel and rich chocolate makes an elegant pairing with soft red wines. Try pairing with Chaman Red Blend, the lush aromas of chocolate, mocha and fig partner smoothly with the many layers of flavor packed within this cookie.
 Tagalongs with Amayna Pinot Noir
The bold chocolate and peanut butter combination of Tagalongs pairs well with smooth red wines that have a light hint of spice. Enjoy with a glass (or bottle) of Amayna Pinot Noir. The elegant notes of vanilla and spice balance well with the sweet and salty flavors of the cookie.
Thin Mints with Mendel Malbec
Possibly one of the most challenging cookies to pair (and the #1-selling Girl Scout cookie in America), Thin Mints can be paired with full-bodied, bold red wines. Try Thin Mints with Mendel Malbec. The aromas of sweet French oak, and complex notes of violet, roasted herbs and mint partner well with this classic cookie.