Festive Thanksgiving Food Pairings
Vine Connections has you covered with delicious wine and sake pairing suggestions to match with your favorite Thanksgiving foods. Download the full PDF by clicking on the pairing wheel graphic. 
Salud, Kanpai & Cheers to a wonderful holiday filled with great company, tasty foods & delicious wine / sake!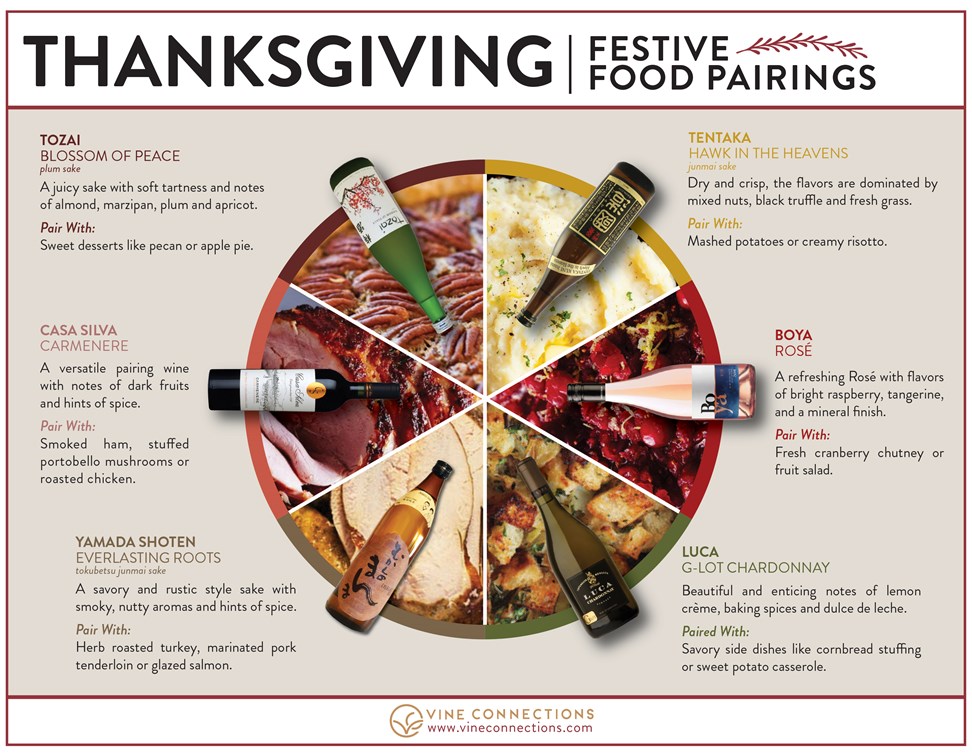 Local, all-natural aodani plums are soaked in Tozai sake for over three months resulting in an incredibly balanced sake with tart, juicy acidity on the finish. Plum blossoms are known as "The Flowers of Peace" in Japan and symbolize growth, renewal, and awakening.
A go-to sake for barbeque, this rustic, high acid sake is a great representation of traditional Junmai style that you would find in Izakayas throughout Japan. The brewery name, Tentaka, translates to "hawk in the heavens," a prosperous Japanese symbol that is thought to bring good fortune to the brewery.
Refreshing coastal Rosé with flavors of bright raspberry, tangerine, and a mineral finish.
The perfect balance between a Burgundian and California-style Chardonnay from the high altitude "G Lot" in Gualtallary at 4,900 feet above sea level.
Yamada Shoten Everlasting Roots
Handcrafted and traditional sake with aromas of cocoa and clove, and notes of orange blossom and tangerine. The high polishing rate give this sake defined fruit and floral expression while still offering rich umami from the highly flavorful local hida-homare rice. Dry, lightly savory finish. This 900ml bottle is perfect for sharing and speaks to the old-fashioned culture within the brewery – to this day, 900ml is the smallest format that they produce.
Casa Silva Carmenere Cuvee Colchagua
Casa Silva, the Carmenere experts, elevate the conversation about less-expensive Carmenere.