4th
largest wine producer in the world
615K
Acres of vines planted across the country
90
Percent of U.S. wine production coming from CA
6
Major CA wine regions that are represented by VC
About California Wine
Elevation
California winemaking is most prevalent in near-sea level valleys
Geographic diversity across the state allows for some grapes to be grown at higher elevations up to 2,600 feet (Mt. Veeder, Napa).
Climate
Sunny weather year-round creates a long grape-growing season.
800 miles of coastline expose vineyards to fog and cool breezes.
Dry weather in the late spring and summer allow the vines to ripen fully and avoid grey rot and other diseases often prevalent in wet areas.
Soil
Diversity in terroir is obvious in California including soils of sand, clay, loam, granite, volcanic ash, seabed soil, and river-run gravel.
Napa and Sonoma Valleys are made up mostly of sandy-loam that keep the soil poor enough to produce high quality wine grapes.
Varietals Planted
*

Denotes varieties imported by Vine Connections
Cabernet Sauvignon

*

Pinot Noir

*

Merlot

Zinfandel

Syrah

*

Petit Syrah

Grenache

*

Other Reds
Chardonnay

Pinot Gris

Sauvignon Blanc

Other Whites
The Wine Regions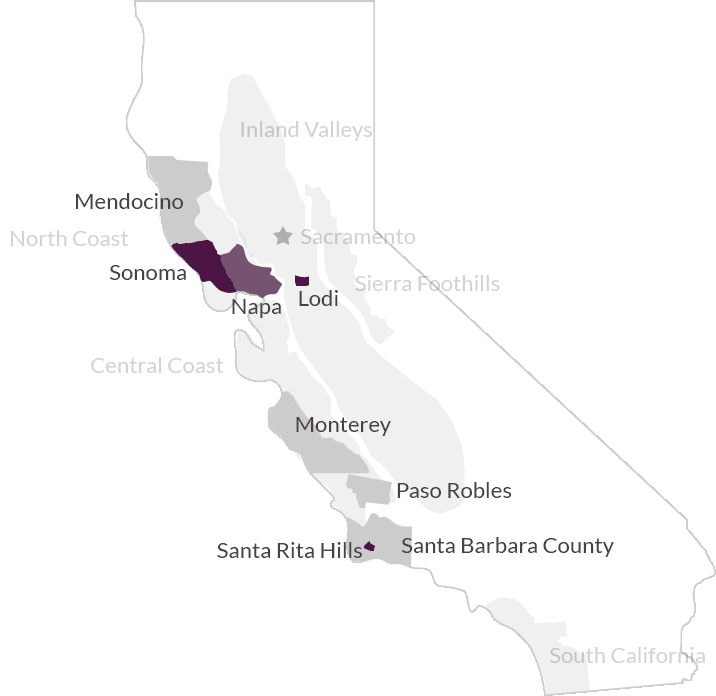 x
North Coast – Napa, Sonoma
This region put California winemaking on the map and is home to more than half of the state's wineries. An array of luxury estates, rich history, and redwood forests make up the area.
x
Central Coast –Santa Barbara County, Santa Rita Hills
The southern part of the Central Coast receives cool ocean breezes making it the perfect place to grow Pinot Noir and Syrah.
x
Central Valley – Lodi
Quaint wine region surrounded by nature preserves that is widely known for big red wines and sustainable winemaking.